December 15, 2004 - December 16, 2004
5: Body Preliminary Evaluation
The bodywork is a project of its own, with major portions of rust and impact damage to be dealt with. Most restorers would scrap this body and find a donor. On the other hand, it would be a shame to make a mess out of a good body as I sharpen my metal working abilities.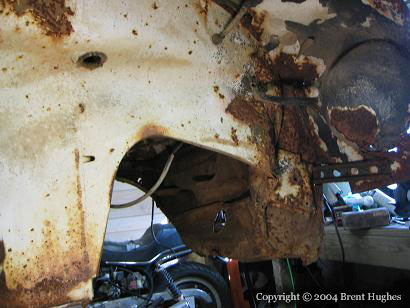 Looking into the front right fender well exposes the most cosmetically disturbing damage. I was told much of this front end damage was caused by smoothing over piles of gravel to make better ramps out of them. Yikes!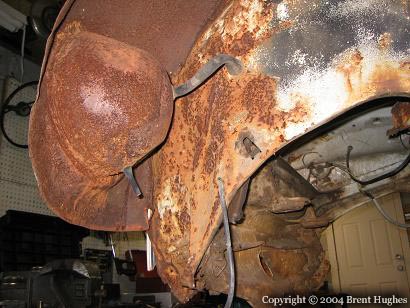 The left side shows more of the same type damage as the right. When installing a fiberglass front end kit it is neccessary to cut off a significant portion of the front clip, which makes that option a little more attractive given this extensive damage. Even if I go that route with the body I expect some reconstruction of the front end will still be required.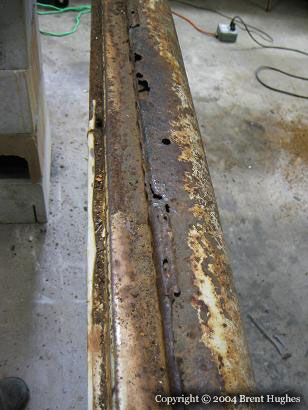 The left side heater channel has spots- a few naturally provided auxillary heat vents one might say. Most of the problems are where the crimped portion of carpet held moisture against the heater channel.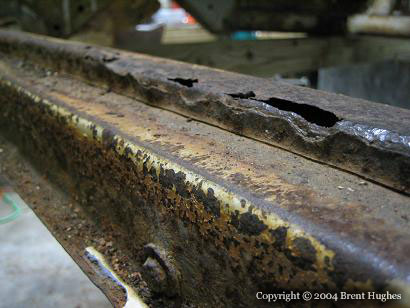 A closeup shows the worst of the heater channel damage. Replacing the entire channel is possible but could compromise the door opening geometry. Hopefully select heater channel "skins" will suffice.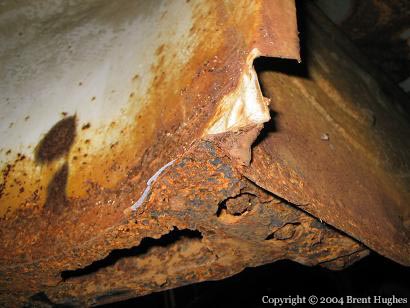 Now the really scary part: Body Mounts. Here is the front right mount located in the heater channel complete with two snapped off bolts. Not pictured are two mounts in front of the gas tank that look fine and have been holding the front half of the body.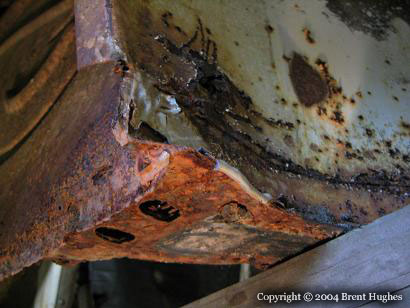 Similiar situation on the left side along with a hole in the fender well. It appears some of this rust came from the inside.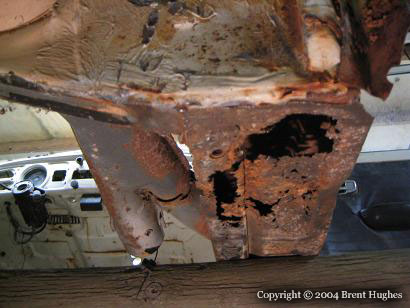 This large hole near the right side jacking point is an entrance for water, but probably started from the inside as well. Further damage may have been caused by improper placement of a bottle jack.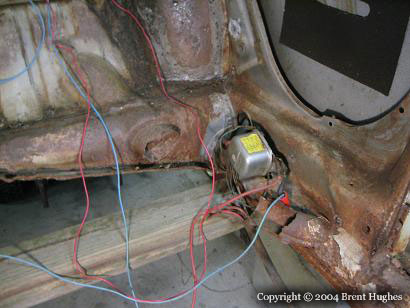 Here the heater "Y" connection is completely rusted away, while the same part on the other side is in relatively good shape.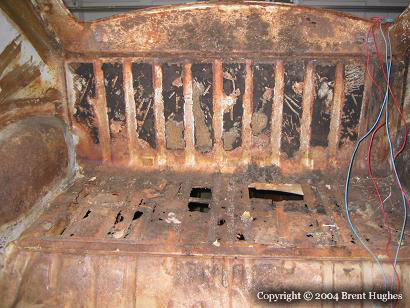 The bottom of the luggage area behind the back seat is barely holding itself in place. There are stock replacement parts for this area but a hatch of some sort would be handy for clutch and starter maintenance.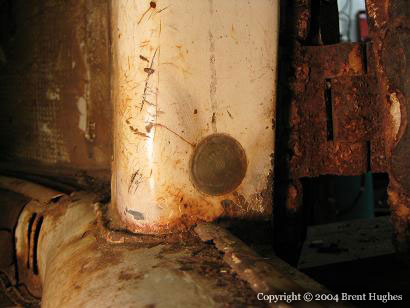 This picture is ugly but it shows the relative beauty of a solid door hinge. Despite the surface rust, the mount is solid and the door operates smoothly. One would never guess from the rest of the pictures! The doors themselves will need new skins as they have visible rust and evidence of Bondo.
Wow, lots of work to do here. I am not a weldor, but it is good that I am interested in learning!