London to Orlando
5: Thursday, July 3, 2008 - Friday, July 4, 2008
Today is our last day in England, and our only day to see London. We spent several days in London last time, so there are only a few places remaining on our shortlist.
Planes, Trains, and Automobiles has been the name of the game to this point, and does not stop here. We drive to Gatwick airport to park the car, then purchase express train tickets into London's Victoria Station. The trip lasted 35 minutes.
From Victoria Station we walk along Victoria to see Westminster Abbey, The Houses of Parliament, and of course, Big Ben. However, we could not see Big Ben because somebody put a large clock in the way. Whatever.
(If you don't get it, realize that "Big Ben" is the bell inside the tower.)
We take a boat up the River Thames to Tower Bridge and Tower of London. The Tower Bridge is neat, and if provided with the time to take the tour I would. But the Tower of London is awe inspiring. What an awful, amazing place. The structure is interesting, but some of the events that took place there were horrible. Originally a fortress, it was eventually used as a prison for criminals, Royalty, and others awaiting execution. It is hard for me to imagine a crowd that has gathered to see a person beheaded.
We walk all around outside the Tower of London and have lunch in St. Kathrine's Dock. You guessed it, fish and chips.
The rain starts falling while we walk back towards the Tower of London. We run into the gift shop to wait it out, then walk to Tower Hill station to take the Underground to Westminster. From there we continue to St. John's Wood station and walk to Abbey Road. Yup, I have a picture of me walking across the crosswalk made famous by the Beatles.
While the picture is fun, what I would really like is a tour of Abbey Road Studios. My timing is a little off- they gave tours for about two months in 1983. But I can say I've seen it. So... I've seen it.
We take the Underground back to Victoria Station, where I try unsuccessfully to capture video of an old double decker bus. I know they have been taking them off the road as they replace them with newer, sleeker, models. I saw one earlier in the day, and hoped to actually catch one on video here. But, no luck. Out with the old, in with the new.
It is getting late, so we take the Gatwick Express train back to the car and drive to Nightless Copse Bed and Breakfast in Capel. We eat at The Plough in Rusper before calling it a night.
In the morning, we drive back to Gatwick, return the car, and board the plane. The flight home is 8 and a half hours, and goes very well. Both trips I have felt like the daytime flight home is easier than the nighttime trip over.
It is pretty neat to be traveling from England to the U.S. on the Fourth of July in a way, and I'm glad the two countries have long gotten over their old differences. While passing through customs, I request my passport to be stamped on page 27, where the watermark is a picture of a stone tablet with "July IV" on it. The stamps says "Admitted - July 04 2008".
We make it home in time for fireworks, but I am asleep before night falls. The exploding fireworks in surrounding neighborhoods do not bother me one little bit.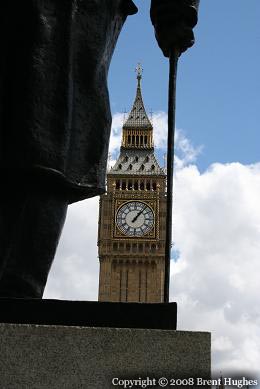 Clock Tower from behind Churchill Statue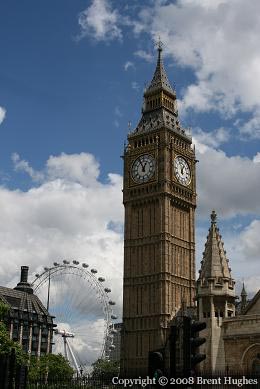 Clock Tower with The London Eye in the background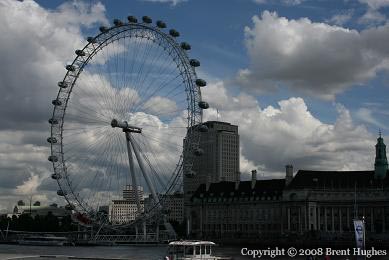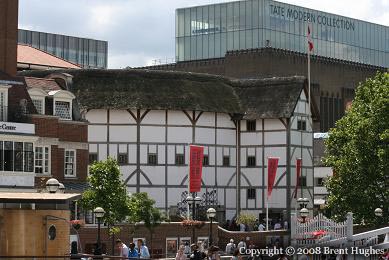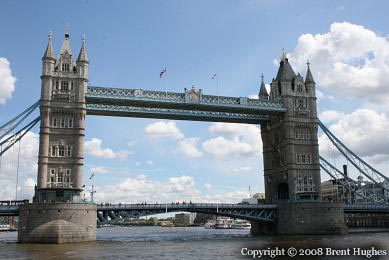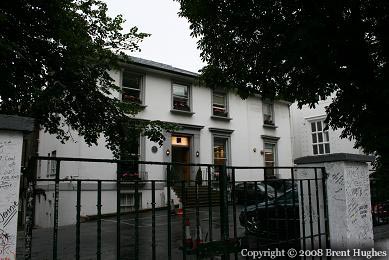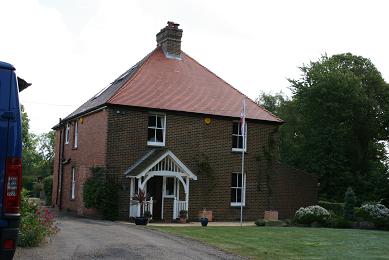 The Nightless Copse Bed & Breakfast