June 1, 2004 - September 4, 2004
2: Preliminary Evaluation
More than a "fixer upper" project, these pictures essentially show a VW Beetle tunnel (chassis) with some old worn out parts attached. It will take a full, ground up, all nuts and bolts teardown and rebuild for this vehicle to be reliable.
Dweezil at the starting point: much to do, not much to work with. A huricane had just passed through- notice the pile of tree limbs in the background and a roofing shingle in the foreground.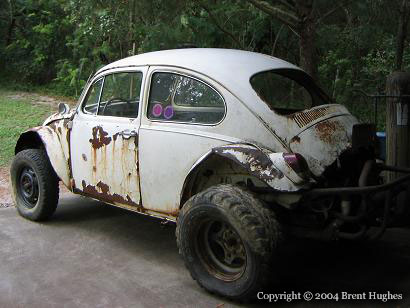 This poor Beetle was converted to a Baja with a metal grinder, truck tires, and a few splines up on the rear torsion bars.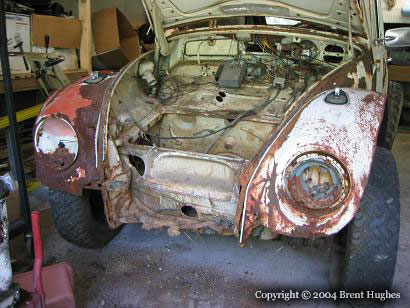 Restoring to Baja, stock, or something in between has not been decided yet. I would like an all metal baja body, but some fiberglass in the front is a little more realistic. My wildest dream is to go all stock to 1968 specifications. Lots of soul searching to do here.
The electrical system needs to be labeled, removed, and fully replaced. This is one area where my previous experience will payoff, unlike many of the other tasks where I will be learning as I go.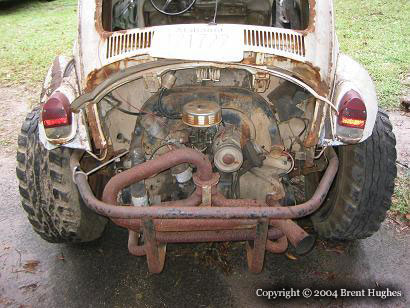 I'm afraid the engine is a loss. It will run, so tinkering with it will be a good education at a bargain price.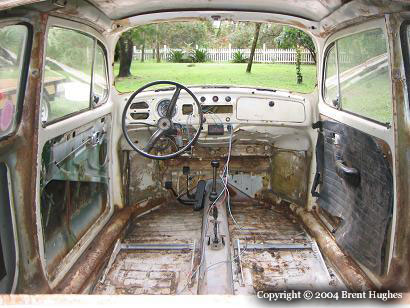 Not much left here, but most 40 year old interiors would be due for replacement anyway. All three seat frames seem to be in decent mechanical condition but will need to be cleaned up, lubricated, painted, and have new pads and covers installed.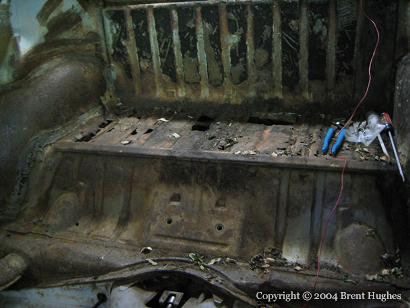 The bottom of the luggage compartment is one of the most rusted areas on the vehicle. The current idea is to install a hatch that will allow easy access to the starter and clutch cable. Not exactly stock, but easily hidden and really convenient.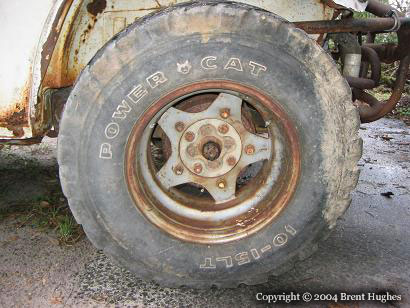 Like most neglected Beetles, the brakes need attention. I think the drums and backing plates are OK, but all the hydraulic parts are unusable.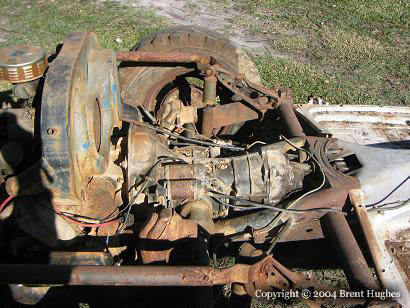 Not sure about the transaxle- As I recall there was an issue with shifting into reverse gear. It did work, so the problem may be solved with new shift rod bushings, a new shift rod coupler, and proper adjustments. Either way, I fear the toll those large diameter tires took on what is likely a stock gearing.
Dweezil's new home where many hours of reconstructive surgery may make a reliable vehicle once again. As bad as this car's condition is, the original design is solid as a rock.